Air Compressor & Customized Packages
KAFCO has a well-established track record in providing solutions for optimized skid mounted packages customized to each unique application that includes a combination of equipment.
We specialize in the design, fabrication, and installation of industrial Packages to answer the needs of our customers.
Modern manufacturing operations demand innovative solutions to add value and operational flexibility to capital equipment purchases. Our modular approach is driven by this need with systems that are developed, manufactured, and integrated from the ground up with flexibility, simple operation and changeover in mind. Mobility is aided by the judicious use of carbon, stainless, and alloy steels. Equipment is designed to seamlessly integrate into existing systems with easy to install features such as single connection points for mechanical and electrical connections. Systems can include components such as pumps, valves, heat exchangers, control panels, complete instrumentation, and custom tanks.
Air Packages, skid-mounted/semi skid-mounted solutions are provided to decrease your outage requirements, field work and project costs. Our packages are designed in 3-D software to minimize the potential for equipment interference and field re-work, which allows us to keep projects on schedule and built to your expectations.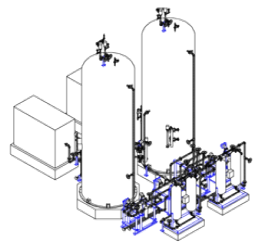 Fuel gas conditioning systems, also known as fuel gas filtration and heating packages, are designed to deliver clean, treated natural gas with the right pressure. Conditioning is crucial to the performance and lifetime of gas-driven equipment such as turbines and generators. The treated gas can also be used as seal gas, blanketing gas or utility gas.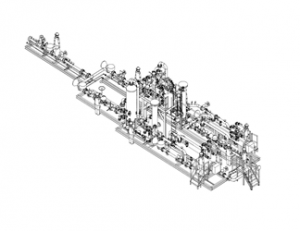 Deluge Skids are packages used to control the flow of water or water/foam solution in fixed fire suppression, cooling or gas containment systems. We design and manufacture the skids according to the international standards and we make the solution to fit your application. We are capable to offer all types of deluge valves with different configuration.